ICEHOTEL becomes Viddes destination partner
Finally we can announce that we have signed a partnership with ICEHOTEL in Jukkasjärvi, Sweden to become our destination partner!
"We are thrilled to announce our second main pre-series partner! ICEHOTEL is an amazing destination and attraction for Sweden. Together we will be able to deliver a whole new outdoor experience in the arctic climate" Christian Lystrup, CEO
Icehotel and Vidde partner to pave the way for the electric  future of snowmobiling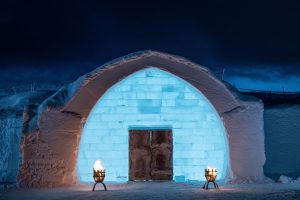 Icehotel 33 by Swedish photographer: Asaf Kliger 
Icehotel partner up with the Swedish entrepreneurial company Vidde, building tomorrow's  sustainable electric snowmobile. The partnership aims to pave the way for a more sustainable  future and to offer Icehotel guests a unique outdoor experience engaging all five senses.    
Every year, when the Torne River turns to ice, a new Icehotel is created in the small village of Jukkasjärvi in the north of Sweden. The river's ice transforms to design and architecture – an ephemeral art project and the world's first and largest hotel built of snow and ice. In addition to this unique art and hotel experience, hotel guests can experience several outdoor activities. Some of the far most popular are snowmobile tours in the wilderness, searching for the magical Northern lights. 
In the future, Icehotel will be able to offer guests a beautiful snowmobile ride in the wilderness in complete silence. This is thanks to Vidde's electric and sustainable snowmobile. This opportunity will give the guests an exceptional experience and feeling of being present in nature in a completely new and unique way. 
In Spring 2023, Vidde will build the first prototype for the world's most durable electrified snowmobile, and it will be named Frankenstein or Frank. The plan is for the Swedish-made snowmobile to be in commercial production at the turn of 2024–2025. 
– To offer our guests a snowmobile safari tour in total silence feels amazing. To partner up with Vidde and introduce this cool and sleek machine in our facility is the right step forward in our sustainability thinking. Going out on a snowmobile ride on a day when the sun is shining and the sounds you hear are merely from the birds, dogs or the snow that creaks feels incredibly harmonious and luxurious, says Marie Herrey, CEO Icehotel.
The electric snowmobile will have a battery pack sufficient for a ride of 10 miles of driving and is enclosed in a unique thermos that protects against the cold. Icehotel will be an essential part of the development and will play a significant role in the development of Vidde. 
– Testing and developing Vidde with the conditions that surrounds Icehotel is perfect for us. Here you have the unique combination of periodically severe arctic cold, a wide spread of users from all over the world with different prior knowledge, and everyone sharing the dream of being close to nature. Added to this is our shared vision of creating a solution that makes a long-term difference for the climate. All This makes it possible for guests to experience a fantastic serene snowmobile ride across Torne Älv and chase the unique northern lights, concludes Christian Lystrup, CEO Vidde Mobility.

About Icehotel  
Icehotel opened in 1989 and is beside a hotel also an art exhibition with ever-changing art made of ice and snow. Icehotel is created in a new version every winter, completely made of natural ice from Torne River, one of Sweden´s national rivers and last untouched waters. When the winter season´s hotel has melted back into the river during the spring, a part of the hotel remains; a place where visitors can experience the ice and snow all year round.